by
Gabby
on
September 30th, 2017
Ezra is celebrating his 25th Birthday today! I hope he's having a great time wherever he is, and that he is surrounded by the people he loves the most. May his 25th year of life be marked with new achievements, kind friends, happiness and success! ❤ Unfortunately for us, Ezra doesn't have any social network profiles. His band, however, does! You can wish him a Happy Birthday by messaging them on Twitter or Instagram.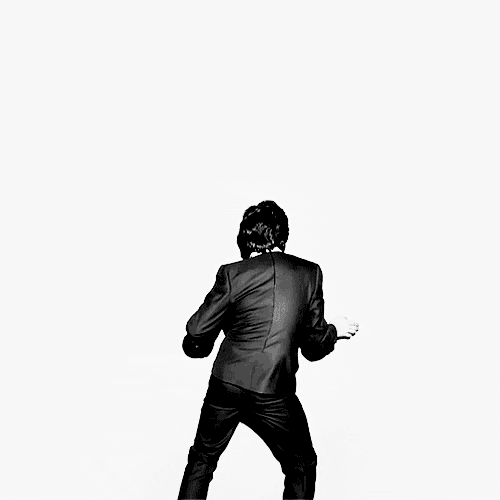 by
Gabby
on
January 1st, 2017
Hello everyone! Another year has come to an end, and it was a fun one for Ezra's fans. That's why we are starting off 2017 with the first post of our annual review series – 2016: A YEAR IN REVIEW. Join us as we remember the biggest moments of Ezra's career this past year!
The year started off with our first look into what Ezra's costume for The Flash would look like (x), which was "crimson with the typical cowl, concealing his face – and therefore his identity – with the hero's traditional lightning bolt symbol displayed across the chest". Actor Grant Gustin, who brings The Flash to life on The CW's television series, addressed the controversy of having two actors portraying the character simultaneously (albeit in different mediums) through a tweet: "I fully support Ezra Miller as Barry Allen and the Flash on the feature side of DC. I've never met the guy, but I think he is a fantastic and interesting actor".
In February, Sons of an Illustrious Father released the official music video for Post-Future, and you can watch it here. The band explained the song/video in an interview for Paste Magazine: ""This song is about alienation and trying to stay connected today. When we were asked to do a lyric video, we wanted to create something that would address both the thematic content of the song and how this medium of transmission itself—the newly prevalent lyric video—is an ephemeral thing, made quickly and forgotten quickly. We wanted to create something more permanent. To put those words and ideas back out in the world in a physical way. We enlisted the help of some dear, very generous friends, including an incredible street artist, and the result was this piece, which really, due largely to our brilliant collaborators, transcended what we initially conceived".
Public Appearances >
2016
Ezra's first public appearance of the year was on March 22, at the UK Premiere of BATMAN V. SUPERMAN: DAWN OF JUSTICE. The film marked Ezra's first cameo as The Flash for DC's cinematic universe. His look at the event started a conversation about his preparation for the role, specifically his exercising routine (x). Also in March, Sons of an Illustrious Father played at SXSW, an annual conglomerate of film, interactive media, and music festivals and conferences that take place in Austin, Texas. The website Bedford + Bowery wrote a sweet review of the band's appearance at the event (worth checking out!).
In April, THE FLASH lost its first director, Seth Grahame-Smith, over "creative differences" (x), and the film's release date was confirmed for March 16, 2018. The script, written by Grahame-Smith, was to be retained. The following month, Ezra was busy filming the upcoming JUSTICE LEAGUE film, and a video of him and co-star Ray Fisher on the set was released by Change.org, in which the actors speak out against the Dakota Access Pipeline (x), "We want to say that our hearts are with the Native youth of Standing Rock reservation, and that we oppose the Dakota Access Pipeline". In the video, they ask the fans to sign a petition at change.org/rezpectourwater, which opposes plans to build a new oil pipeline across the Missouri River. The pipeline would be located less than a mile from Standing Rock Reservation. The Sioux Tribe that calls the reservation home worry that the pipeline would leak, poisoning their water supply (x).
In June, Warner Bros. Pictures' signed Rick Famuyiwa to direct THE FLASH (x). This was also the month in wich Sons of an Illustrious Father released the official music video for the song 'Opposite of Love' (watch it here).
In July, Ezra attended the San Diego Comic Con to promote JUSTICE LEAGUE and FANTASTIC BEASTS AND WHERE TO FIND THEM. It was also confirmed that he would have a cameo as The Flash in SUICIDE SQUAD (x), his second in DC's cinematic universe. Up to that point, we had virtually no information on Ezra's character in FANTASTIC BEASTS, and he couldn't say much in any of the interviews released that month. They were still glorious, however, and definitely worth the watch. As part of DC's promotion during the event, they showed the fans some special footage from JUSTICE LEAGUE, which was quickly released online afterwards (x).
August began with good news for Ezra's and Harry Potter fans around the world: Entertainment Weekly shared the first image of his character, Credence Barebone, in FANTASTIC BEASTS AND WHERE TO FIND THEM. The magazine also shared a brief summary of the character: "[Credence] appears withdrawn, extremely shy and far more vulnerable than his two sisters. Credence is defenseless against the abuse that comes in response to the slightest infraction of Mary Lou's strict rules. But his loneliness also makes him susceptible to the manipulation of Percival Graves (Colin Farrell), who has taken a personal interest in Credence".
In September, Ezra talked to Collider about his upcoming films (as much as he could, of course… damn those ever-watchful snipers). In October, THE FLASH lost its second director, Rick Famuyiwa, once again over "creative differences" (x).
FANTASTIC BEASTS AND WHERE TO FIND THEM premiered on November 10, and its release resulted in a few glorious press junkets with Ezra, and many interviews that are now treasured by the fans (x, x, x). Ezra's role ended up being much bigger than anticipated by most, and the film has grossed over $770 million worlwide (x). In December, the first promotional still from JUSTICE LEAGUE was released (x).
We hope Ezra and his family have enjoyed the Holidays, and that 2017 proves to be even better than 2016. We also wish you guys a lot of love, happiness and success! Thank you for the warm welcome you've given the site. May 2017 be a great year for us all! ❤️
by
Gabby
on
November 11th, 2016
Hello everyone! Welcome to Ezra Miller Fan, your newest source for all things Ezra Miller. He is most known for his work as an actor in the films We Need To Talk About Kevin, The Perks of Being a Wallflower and Trainwreck. His latest one, Fantastic Beasts and Where To Find Them, is coming out worldwide on November 18, 2016. Ezra has also been cast as The Flash in DC Comics' cinematic universe, having made cameos on Suicide Squad and Batman vs Superman, and will star in Justice League, coming out next year, and his very own The Flash, set to come out sometime in 2018. Make sure you keep an eye on our site for news, videos and images of Ezra's work! Thank you for the visit and I hope you come back soon.
Follow us on Twitter for updates!